The basic idea behind Mechanical Turk is a four step program.
Step One: Register
After signing up and all that mess, you will give the website (which is run by AMAZON.com, so it is totally secure and safe) your bank account information or paypal info, so that when you have made some money you can get the cash deposited directly into your bank account for no fee what-so-ever. It is free to sign up, it is free to get the money, every part of this website is FREE, which is something that I definitely appreciate.
Step Two: Find Work
Search or browse through the Human Intelligence Tasks (HITs-synonym of "task" or "job") and click on the one that interests you.
This is what it looks like when you're browsing for work
Step Three: Work on your HIT
Accept the HIT and follow the instructions. When you're done, submit your work.
You're required to click "accept hit" before starting each task
Step Four: Get Paid!!!
After the requester approves your work, money is deposited into your Amazon Payments account.
Now, like with every work-at-home sceme that I have used in my life, there are obvious pros and cons to this system. I will list some of them below.
PROS:
It's an easy buck, the jobs are simple and any old idiot could perform these tasks.
Some jobs are high paying, so you could make $15 on a single job.
There is plenty of work.
There are many different types of work, for people with different skill levels and abilities.
There is no cost for sign up, this is all completely free.
All you need is a Bank account or PayPal.
The Work is almost always fun and engaging.
It is addicting, no matter what the pay. (Some people do it for free)
Good Experience for transcribers, copywriters, bloggers, freelancers, data entry specialist, among others.
A lot of it is surveys (not the kind where you give out personal info, either. Surveys for universities, studies, etc.)
No need for human interaction, for all of you social butterflies.
IT'S SO EASY!
I could go on and on, but you should really see for yourself why Amazon Mechanical Turk is really a lot of fun and I am on here everyday. Plus you work on your own schedule for an agreed amount so you don't feel tied down or obligated, and you can always click the "return HIT" button if you feel like you wont be able to do a particular HIT.
CONS:
Most HITS don't pay that much ($0.00-$0.15 is the usual, many of them being $0.01 to $0.05 range) These "change" tasks are easier and more simple than the higher paying tasks, though. Pay is normally based on difficulty level and time consumption of the task, as set by the requester always.
You get paid a lot less than minimum wage, some have argued that the site is considered slave labor (it's not a job, though...)
Most tasks, you would argue, should pay a lot more for the time they take to finish (if it were a real desk job or something like that)
Requesters can reject your hard-earned work for really any reason if they are not legit, or just refuse to pay you! (has not really happened to me, but I have heard stories)
Some people on here are scammers, offering $25.00 for a survey or something whack-o like that. They are usually easy to pin-point. Example: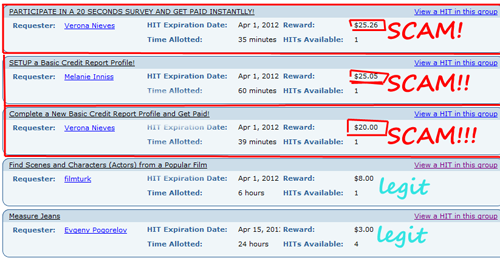 Some jobs are only accessible to people with certain rankings, for example, a person who has submitted 1000 tasks or has a 95% acceptance ratio. Take a look at this table for more detail:
Submitted HITs
Value
Rate
HITs Submitted----------------
1355
—
... Approved--------------------
1344
99.3%
... Rejected--------------------
10
0.7%






This person has only had 10 rejections, but even though they submitted 1355 tasks, they are still facing an almost 1% stat decrease. This can be detrimental to people who are just starting out, and have their tasks rejected by scammers or by some fault not of their own.
And lastly, people have a lot of negative opinions about it. Please watch this video if you feel like you really need to hear some more reasons why Mturk is bad...