This is an idea that I came upon while browsing the internet website called Reddit. There is a board on this site with a wealth of information about how to make an extra few bucks on the internet without much effort or in your time off from your day-job! This is just one of the places where I get ideas for my blog.
The name of the board is r/beermoney just so you know and you can find it
here
.
(insider tip)
So the idea that I came across was for this website called
Topline
. This is a referral based website that rewards users money just for surfing the web. Allow me to break down the way that it works:
Step One:
Step Two:
Download the app, it is a browser plug-in that runs in the background. Before you get all crazy about the browser plug-in, let me explain how this website works...
Using the browser plug-in, TOPLINE will replace ads on websites that you browse, for example youtube.com, reddit, blogger, etc. with their own ad's that are paid for by their sponsors. I have searched online and read the privacy policy, and from what I can see they do not keep tabs on your personal info or anything like that. I know many people who use jointopline.com and it is a perfectly legitimate and popular business. Just as popular and reliable as other sites like superpoints, swagbucks, cashtexts, mturk and other sites such as that.
Step Three:
Surf around the web as usual. The only difference that you will notice is that in most cases every ad that you see will be replaced with topline verified advertisements. You can even choose what type of ad's you are interested in.
Step Four:
Get paid!!! For every 1000 points you earn in the topline system, you will get $0.75 USD. According to a topline professional, this payout is likely to increase as the website gains popularity and in response, they get more advertisers to join their program.
Here is a testimony from the topline personnel that may explain any questions that you have about the program:
[–]TopLineTeam

3 points

ago
1. TopLine uses a very sophisticated security algorithm to detect abnormal browsing activities. Depending on your browsing, your account may stop receiving points and begin seeing ads for TopLine. If the activity is deemed excessive, your account will be disabled all together. The best way to gain points with TopLine is to browse websites as you normally would. Frequent refreshing, loading pages with excessive numbers of ads, and other attempts to game the system will only hurt your chances at healthy point accrual levels. Because of the way our system works, people who spend large amounts of time actively browsing various sites which display advertisement will accumulate the most points. You can boost your points earnings by referring friends.
2. The friend referral system works by matching 5% of the points your friends earn with points from TopLine. When a friend uses your referral link to get to our website, they are tagged using a session variable (cookie). If that person registers before the cookie expires, you are marked as the referrer of that person. From that point, you will receive a 5% match of that person's points. If you have already referred friends, you can see a list of friends who have become active TopLine members here: https://www.jointopline.com/account_referrals
3. To use TopLine correctly, log in to the extension, verify you are seeing the small TopLine bug (image) in the ads on the pages you visit, and begin browsing the web as you normally would. To improve your earnings, refer friends who are most likely to actually register and continue to use TopLine.
4. Also note, we are working hard to improve the value of a point by working directly with advertisers and networks. Whenever we improve the amount we are paid for displaying ads, we pass that on to you. You can check the ticker in the account panel on the website to see a daily point value chart.
Like I mentioned, this is not only a way you can earn money on your own, but you also have the chance to earn more from referrals (although that is not the main concept of it, as with every program, these can be very helpful). So, like the guy said, you can't rely on macro's and auto refreshers to earn money from this (and that would be a good way to get banned) However, if you do need to do any of those things, you can turn off topline for a certain amount of time, or just block the particular domain that you need to use in your topline preferences.
So far, this has been nothing but positive for me. The program runs in the background. It does not slow my internet or computer down in any way that has been noticeable to me. Some people have really good results with it, and some say it's slightly glitchy. I have not noticed anything about it that''s less than positive, except that it's not the quickest way to make money in the world. The good thing about it, though, is that it takes absolutely no effort whatsoever. Some days I only make about 100 points, and some nights I can make 400 points in a night. I don't have any friend referrals yet, so that is completely on my own. Now I will show you some pics of how the app and the website look in detail.
This is what an ad will look like, once replaced with topline ads:
and this is what the app will look like in your browser: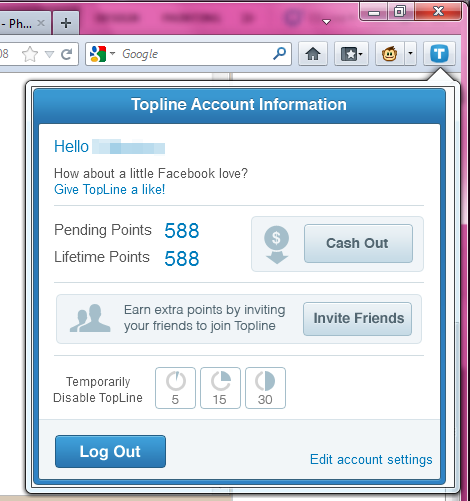 This is what your dashboad looks like if logged in the website itself: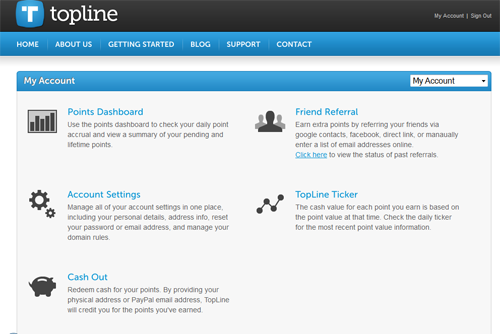 Good Luck, Browse safely. Please leave a comment, especially if you use my referral. Lets be friends, because I sure will be grateful!!